Your Rights. In Writing.
The growing interest in environmental causes demonstrated by the popularity of the first Earth Day in April 1970 proved to be a catalyst for action in Pennsylvania.
In the following May, Pennsylvania's legislature approved and the voters ratified – by a four to one margin – a proposed amendment to the state's constitution codifying our rights to a healthy environment.
This golden anniversary was the golden opportunity to celebrate and the Foundation did so by inviting Pennsylvanians to share what the ERA means to them through poetry, photos, and songs. Click on the image below for a flipbook collection of items received from around the state or click here to download a pdf.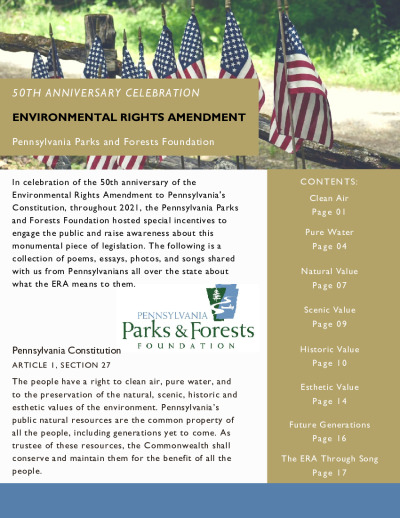 On May 18, 2021 – the anniversary itself – a panel discussion moderated by Rachel McDevitt of StateImpact Pennsylvania was broadcast by WITF-TV. The discussion featured:
Cindy Dunn – Secretary, PA Department of Conservation & Natural Resources
State Sen. Franklin Kury
Rafiyqa Muhammad – Harrisburg Environmental Advisory Council, PA DEP Environmental Justice Advisory Board
Emma Olney – Governor's Youth Council for Hunting, Fishing and Conservation and Wildlife Leadership Academy Ambassador
Sofia Portilla – Climate Justice Youth Advocate with CASA (a working class, Latino, and immigrants' rights organization)
View the video here: